Hooaka Shitodo
Jump to navigation
Jump to search
Hooaka Shitodo (鵐 頬赤, Shitodo Hooaka) is the middle sibling of the Shitodo siblings, the others being Aoji Shitodo and Kuroji Shitodo. They have a carefree and eccentric personality. They are the fourth stage boss of Evanescent Existence, the first game of the Len'en Project, later returning as a playable character in Brilliant Pagoda or Haze Castle.
General Information
[
edit
]
Personality
[
edit
]
Hooaka is a carefree person, whose personality changes depending on the mood of the situation. They are so carefree that they don't care much about Kuroji's amoral methods to gain money or bothering to remember Aoji's name.
According to Kuroji, they aren't very smart, but they are still a powerful magician, enough to be called the "Air Master" (エア・マスター, Ea Masuta), which is also their musical theme. According to JynX, they're called this due to having a reputation for being able to understand the mood in the air.
Abilities
[
edit
]
Control hot and cold
Hooaka is a magician and can control certain elements, but apparently their strong point is heat magic. As shown in their spell cards, they can control hot and cold, resulting in steam and gas. They invoke certain kinds of magic by harnessing the mood of the situation, but with magic outside of that range, they can't read the mood and thus can't cast the spells.
According to Hamee, Hooaka has two spirits and the strength of two people in one body, but what this means is unknown.
Background Information
[
edit
]
Their full name is Hooaka Shitodo (鵐 頬赤, Shitodo Hooaka). Their given name, Hooaka (頬赤) is the Japanese word for the chestnut-eared bunting, a kind of bird. Aka (赤) also happens to be the Japanese word for red. Their family name, Shitodo (鵐), uses a kanji which is used in an alternative spelling of black-faced bunting.
They have short wavy red hair and red eyes. They wear the characteristic Shitodo outfit: a black necktie with puffy shorts and a long, hooded, green jacket.
Appearances
[
edit
]
Evanescent Existence
Like everyone else, Hooaka and their siblings are spirited away to Mugenri and ends up in a forest.
While trapped in the forest, they run into Tsurubami Senri disguised as Tsubakura Enraku. By now, the fake Tsubakura is getting tired of fighting with all the people they spirited away, so they and Hooaka pass each other. However, the fake Tsubakura changes their mind and decides to fight against Hooaka, calling it "the sauce on top" of their own victory. Hooaka takes it literally and believes the fake Tsubakura is talking about a real sauce, so both engage in a nonsensical conversation about sauce. Hooaka notices at the last minute that the fake Tsubakura is looking for a fight, but realizes too late and gets defeated. After that, the fake Tsubakura comments that "the sauce was alright", prompting Hooaka to ask where the sauce is. Noticing that Hooaka took their words literally, the priest flies away.
After being defeated by Tsubakura, they run into Yabusame. They tell Yabusame that Tsubakura beat their little sibling Aoji Shitodo and some other people on the way to Mugenri. Without much left to do, the two fight and Hooaka is defeated again. Eventually the Shitodo siblings reunite and set up in Mugenri.
Earthen Miraculous Sword
Hooaka, along with Aoji Shitodo are only mentioned in the prologue. Apparently, the Shitodo siblings have problems adjusting to Mugenri and Hooaka, because of their lazy personality, doesn't do anything, much to Kuroji's chagrin. In order to advertise their family and have some funds, Kuroji decides to resolve the incident.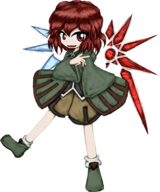 Brilliant Pagoda or Haze Castle
Suzumi Kuzu barges into the Shitodo House and attacks the Shitodo siblings, resulting in Hooaka's arm being severed. With their ability to rewrite memories, the Shitodo siblings forget about the encounter, but for some reason they remember the words "The mirror of Heaven shall split". The siblings go to the Senri Shrine to treat Hooaka's injury and inform Yabusame and Tsubakura about the words. Since Saragimaru ran away from the Shitodo House to assist Yaorochi, Kuroji goes with Aoji and Hooaka to find more ways to gain easy money.
In all routes, Hooaka and their siblings deal with a few youkai and some of their human acquaintances, trying to steal valuable things in the process (such as the Harujion or Yaorochi's Tasouken). At the end of the Brilliant Pagoda or Haze Castle routes, Hooaka and their siblings find out about the war sides and the motives of the Imperial Military and the Dragonfly Army, but Kuroji decides to stay out of it, stating that they only care about their own wellbeing doesn't care about what happens to Mugenri, while Aoji and Hooaka express their interest to return to the Outside World. In the end, they meet Suzumi again, forcing the Shitodo siblings to remember they were attacked by Suzumi earlier that day. Suzumi reveals their intention to make Tsubakura's life a living hell and after a hard fight, Suzumi erases their memories again (with Aoji being the only one who vaguely remembers).
Spell Cards
[
edit
]
Spell Cards
Name
Translated
Comments
Games
Stage
Total: 8
冷牌「時限式な昇華」
Cold Card "Timed Sublimation"[a]
EE
BPoHC
St. 4: E/N
St. 4: E/N
冷牌「シューティングミスト」
Cold Card "Shooting Mist"
EE
BPoHC
St. 4: H/U
St. 4: H/U
冷壁「ホワイトアウト」
Cold Wall "White Out"
Upgraded flash bomb (BPoHC)
EE
BPoHC
BPoHC
St. 4: E/N/H/U
St. 4: E/N/H/U
Upgrade/Use
冷華「勿忘草」
Cold Flower "Scorpion Grass"
EE
St. 4: E/N
冷華「フォーゲットミーノット」
Cold Flower "Forget-Me-Not"[b]
EE
St. 4: H/U
冷熱「五月雨ボイラー」
Hot & Cold "Samidare Boiler"[c]
EE
St. 4: E/N
昇華「初春の霜柱」
Sublimation "Frost Needles in Early Spring"
EE
St. 4: H/U
噴火「水蒸気爆発」
Eruption "Steam Explosion"
EE
BPoHC
St. 4: E/N
St. 4: E/N
村雨「放射冷却熱輻射弾」
Passing Shower "Radiative Heat and Cooling Shot"
EE
BPoHC
St. 4: H/U
St. 4: H/U
「ヒートランス【極小】」
"Heat Lance [Minimum]"
Bomb (BPoHC)
BPoHC
BPoHC
St. 4: E/N
Use
魔槍「ブリューナク・ミニマム」
Demon Lance "Brionac Minimum"[d]
BPoHC
St. 4: H/U
「両極翼」
Opposing Wings
Flash bomb (BPoHC)
BPoHC
Use
Additional Information
[
edit
]
Official Sources
[
edit
]
References
[
edit
]