Len'en Anniversaries
From Len'en Wiki
Attention: This article is a stub because Para is lacking knowledge!
You can help the Len'en Wiki by expanding it with more knowledge!
Len'en anniversaries are celebrated every year on the 11th of November, because this is the date the Len'en Project was born, in the year 2013. Usually during this time of the year, JynX will post an illustration on pixiv and thank the Len'en fans for all their support towards the project. So far, they've only created two illustrations, along with a transcript of a conversation amongst some of the Len'en's characters.
3rd Year Anniversary
[
edit
]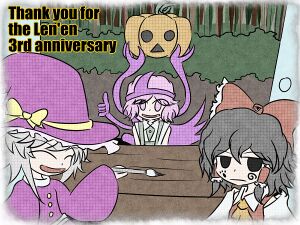 連縁3周年ーーっ!!
ファンの皆さんありがとうございます!!!

連縁3周年記念、ありがとう!
It's Len'en's third anniversaryyyy!!
Thank you, fans!!!

Thank your for celebrating Len'en's third anniversary!
二周年からもう1年間・・・


長いけど早い(白目)

Another year, and it's the second anniversary...
It's early, yet quick (whites of the eyes).
2nd Year Anniversary
[
edit
]
あげたで〜
連縁二周年記念!(ポッキー&プリッツの日)
Give it to meee.
It's Len'en's second anniversary! (Pocky & Pretz Day)
連縁も二周年なんだってさ。


ってことで、天影戦記のハロウィンED的なものを作ってみました。
ハロウィンイベントに乗じてお菓子を売りさばいて儲けようとする新皇組。
二周年、ハロウィン、ポッキー&プリッツの日を同時に祝ってみた図。


早く新作完成するといいね(他人事)

It's Len'en second anniversary.
In celebration, I managed to create a Halloween ending-like image of Brilliant Pagoda or Haze Castle.


The Senri Shrine tries to profit by selling Halloween candy at the event.
In celebration of Halloween and Len'en's second anniversary, I included both Pocky and Pretz here.


It would be nice to finish the new work as soon as possible (other people affairs).