Evanescent Existence/Spell Cards/Stage 2
Jump to navigation
Jump to search
Midboss Spell Card
Spell Card 013
Spell Card 013

流波「クレントブラスト」


Current Wave "Current Blast"

Owner

Aoji Shitodo
Stage 2 — Easy
Spell Card 014
Spell Card 014

流波「クレントブラスト」


Current Wave "Current Blast"

Owner

Aoji Shitodo
Stage 2 — Normal
Spell Card 015
Spell Card 015

流衝「クレントブラストフル」


Current Rush "Current Blast Full"

Owner

Aoji Shitodo
Stage 2 — Hard
Spell Card 016
Spell Card 016

流衝「クレントブラストフル」


Current Rush "Current Blast Full"

Owner

Aoji Shitodo
Stage 2 — Unreal
Boss Spell Card #1
Spell Card 017
Spell Card 017

曲牌「オクトスパイラル」


Curve Card "Octo Spiral"

Owner

Aoji Shitodo
Stage 2 — Easy
Spell Card 018
Spell Card 018

曲牌「オクトスパイラル」


Curve Card "Octo Spiral"

Owner

Aoji Shitodo
Stage 2 — Normal
Spell Card 019
Spell Card 019

歪牌「スパイラルクラーク」


Distortion Card "Spiral Krake"[a]

Owner

Aoji Shitodo
Stage 2 — Hard
Spell Card 020
Spell Card 020

歪牌「スパイラルクラーク」


Distortion Card "Spiral Krake"[a]

Owner

Aoji Shitodo
Stage 2 — Unreal
Boss Spell Card #2
{{Spell Card Info | image =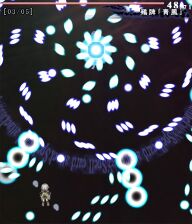 | number =021 | name =鵐牌「青風」 | transname =Shitodo Card "Blue Wind"[b]
Spell Card 022
Spell Card 022

鵐牌「青風」


Shitodo Card "Blue Wind"[b]

Owner

Aoji Shitodo
Stage 2 — Normal
Spell Card 023
Spell Card 023

鵐牌「青嵐」


Shitodo Card "Blue Storm"[b]

Owner

Aoji Shitodo
Stage 2 — Hard
Spell Card 024
Spell Card 024

鵐牌「青嵐」


Shitodo Card "Blue Storm"[b]

Owner

Aoji Shitodo
Stage 2 — Unreal
Boss Spell Card #3
Spell Card 025
Spell Card 026
Spell Card 027
Spell Card 028
Boss Spell Card #4
Spell Card 029
Spell Card 029

渦牌「プラスチックボルテックス」


Whirlpool Card "Plastic Vortex"[d]

Owner

Aoji Shitodo
Stage 2 — Easy
Spell Card 030
Spell Card 030

渦牌「プラスチックボルテックス」


Whirlpool Card "Plastic Vortex"[d]

Owner

Aoji Shitodo
Stage 2 — Normal
Spell Card 031
Spell Card 031

旋牌「イースタンガーベッジパッテ」


Rotation Card "Eastern Garbage Patch"[d]

Owner

Aoji Shitodo
Stage 2 — Hard
Spell Card 032
Spell Card 032

旋牌「イースタンガーベッジパッテ」


Rotation Card "Eastern Garbage Patch"[d]

Owner

Aoji Shitodo
Stage 2 — Unreal
Notes
↑ 2.0 2.1 2.2 2.3 2.4 A reference to kazeaoshi (

風青し

) and aoarashi (

青嵐

), both which refers to "slightly strong winds that blow over where young leaves grow luxuriantly". They belong to a group of phrases used in traditional Japanese poetry to establish the season, called kigo (

季語

), here invoking the image of summer.
In addition,

青嵐

is also rarely read as seiran, to mean "mountain air". Cite error: Invalid <ref> tag; name "blue" defined multiple times with different content
↑ 3.0 3.1 3.2 3.3 A reference to the Biblical Book of Job, where Job witnesses what appears to be a giant creature breaching from the ocean, and names it "Leviathan".
↑ 4.0 4.1 4.2 4.3 A reference to the Great Pacific garbage patch, of which the Eastern Garbage Patch belongs to, it is also someimtes called the "Pacific trash vortex".