Evanescent Existence/Story/Tsubakura's Good Ending
Jump to navigation
Jump to search
SPOILER WARNING
The following material is hidden away from normal view to prevent spoilers.
It contains ending dialogue and thus hidden away so that it meets the requirements provided by JynX.
Please read at your own risk!
I understand and I wish to continue
You've committed a big mistake, yo.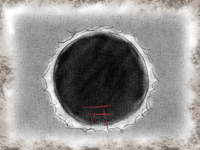 異様な存在感がある太陽のような物を目の前に、
燕楽玄鳥と名乗る者は一息ついていた。 

The person calling themself Tsubakura Enraku took a short rest
in front of the sun-like object with a bizarre presence.

ツバクラ 「なんだ、思ってたよりやるじゃん、とりあえず合格点ってことで」

Tsubakura "Huh, you're better than I thought. I guess I'll give you a passing grade."

クラウゼ 「馬鹿なっ・・・貴様、それほどの力をどこで・・・?」

Clause "Impossible... Where did you get that sort of power...?"

ツバクラ 「さてと、それじゃ仕度でもしますか・・・
はぁ、復讐ってのも案外たいへんだな、大して面白くもないし」

Tsubakura "All right, I'd better finish getting ready...
Man, getting revenge is way more troublesome than you'd think. And it's not even that interesting."

クラウゼを完全に無視しながら、玄鳥のような人物は懐から牌と筆を取り出し、
空中であるにも拘わらず器用に何かをすらすらと書きはじめた。

While totally ignoring Clause, the person resembling Tsubakura took out a writing brush and a card
from their pocket, and began writing something with considerable skill despite being in midair.

クラウゼ 「解せぬな・・・・さては貴様、玄鳥ではないな?」

Clause "How inexplicable... You are not really Tsubakura, are you?"

偽ツバク 「おっ、当たり! よく分かったな・・・案外やるじゃないかー」

Fake Tsubakura "Oh, bingo! You figured me out pretty well... You're smarter than I would expect."

玄鳥と名乗る何者かは、手を休めず気持ちのこもってない賞賛をした

The person calling themself Tsubakura, without resting their hand, gave out emotionless praise.

クラウゼ 「ふっ、やはりな・・・」

Clause "Hmph, just as I had thought..."

クラウゼは根拠のない勘が偶然ながら当たったことが嬉しかったらしく、
ボロボロな顔で得意顔になっていた。

Clause's groundless guess incidentally turned out to be true,
and they made a triumphant look with their tattered face.

偽ツバク 「たぶんあいつらもそろそろ追いついてくるころだな・・・」

Fake Tsubakura "It's about time those others caught up to me..."

得意顔でボソボソと手前味噌な事を言い連ねているクラウゼをよそに、
偽玄鳥は筆先がぶれてよく見えないほどのスピードで牌に何かを書き殴っていた。

As Clause continued to sing their own praises in a low murmur,
the fake Tsubakura jotted something down at such a speed that their brush looked like a blur.

偽ツバク 「よし、こんなもんか、じゃあやりますか」

Fake Tsubakura "Alright, this ought to do. Here we go, then."

偽玄鳥はクラウゼに対して何の反応もせず、書き終わった牌を天高く掲げると、
身に纏っていた服が溶け出し、形を変えていった。

Without responding to Clause at all, the fake Tsubakura raised the card into the air.
In that instant, the clothes they were wearing melted away and changed shape.

やがて、偽玄鳥の服装は頭の頂上から足のつま先まで完全に姿を変えた

Before long, the fake Tsubakura's clothes had changed completely from head to foot.

クラウゼ 「なるほど、それが正装ってわけかい・・・魔力が桁違いに増大したな・・・・・・
化け物め・・・・・」

Clause "I see, so that is your real attire.... Your magic power increased immeasurably...
What a monster....."

魔法も使えないクラウゼはいい加減な事を言っていたが、偽玄鳥は変身が終わると
同時に、弾丸のようなスピードで黒い太陽に突入していっていたので、

...So Clause muttered to themself, despite being completely unable to use magic. But as soon as
the fake Tsubakura finished transforming, they flew towards the black sun like a bullet...

その言葉を聞く者はもう、クラウゼ自身以外に誰もいなかった

And so there was no longer anyone around to hear Clause's words but themself.

クラウゼ 「・・・・案外寂しいものだな」

Clause "....This is unexpectedly lonely."

To be continued ---- EXTRA_STAGE..

To be continued in the Extra Stage...

ROUTE2 ALL CLEAR!!
やったね! けどもう少しだけ続くのよ。

ROUTE2 ALL CLEAR!!
You did it! But you know it's not over yet, right?