Evanescent Existence/Story/Suzumi's Good Ending
Jump to navigation
Jump to search
SPOILER WARNING
The following material is hidden away from normal view to prevent spoilers.
It contains ending dialogue and thus hidden away so that it meets the requirements provided by JynX.
Please read at your own risk!
I understand and I wish to continue
You've committed a big mistake, yo.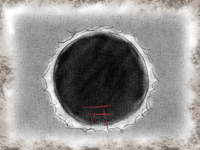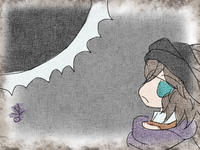 光を吸う太陽のすぐそばで、情報屋を自称する雀巳は
この世界について考えていた

Floating in the immediate vicinity of the light-consuming sun,
the self-proclaimed informant Suzumi pondered the world they were currently in.

クラウゼ「貴様・・・・・、雀巳ではないな?」

Clause: "You fiend... You are not really Suzumi, are you?"

スズミ 「・・・そういうことは貴方がさっき会った
玄鳥様に言うべきよ」

Suzumi: "...You should've used that line on the 'Tsubakura-sama'
you met a little while ago."

的外れなことを言うクラウゼに対し、雀巳は冷たく言い放った。

So Suzumi coldly declared to Clause, whose groundless guess had completely missed the mark.

この世界は鶴喰が作り出した无現里と外界の境・・・・

This world was the boundary between the Outside World and Mugenri, created by Tsurubami...

スズミ 「・・・・・大結界はどのタイミングで抜けるのかしらねぇ?」

Suzumi: "...I wonder what timing would be necessary to get through the Great Barrier...?"

スズミ 「ま、そういう難しいことはアルディに任せて、
私は早く寝たいわ~」

Suzumi: "Eh, I can let Ardey handle any tough stuff like that.
I just want to go to sleep soon..."

寝ぼけ眼をこすった後、雀巳はニヤリと笑った。

After rubbing their half-asleep eyes, Suzumi's mouth stretched into a broad grin.

その笑みは見る者すべてに不吉なことを予期させるような、
不気味で、狂気に満ち溢れたものだった。

It was a smile full of eerieness and lunacy,
the kind that would make anybody who saw it expect the worst to happen...

スズミ 「玄鳥さまぁ・・・・・はやく会いたいわぁ♪」

Suzumi: "Tsubakura-samaaaaa... Oh, how I long to finally meet you! ♪"

To be continued ---- EXTRA_STAGE...

To be continued in the Extra Stage...

ROUTE3 ALL CLEAR!!
クリアおめでとさん! あとはEXだね

ROUTE3 ALL CLEAR!!
Congrats on your clear! Next up is the Extra Stage.