Brilliant Pagoda or Haze Castle/Story/New Emperor Team's Haze Ending
Jump to navigation
Jump to search
SPOILER WARNING
The following material is hidden away from normal view to prevent spoilers.
It contains ending dialogue and thus hidden away so that it meets the requirements provided by JynX.
Please read at your own risk!
I understand and I wish to continue
You've committed a big mistake, yo.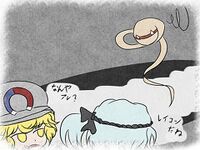 ~蜻蛉乃城

~The Dragonfly Castle

佇むその姿が朧げに見えるのは
立ち込めている霧や蜃気楼によるものだけでなく

The reason that this castle looks so hazy
may not be because of the mist it stands in, or any mirage...

この城の存在そのものが陽炎の如く儚いものであるからではないか・・・

But perhaps because the castle's presence itself is as fleeting as a heat haze...

そういう印象を抱かせるこの城の中で、一つの勝負に決着がついた。

Within the castle that gives off this impression, one battle drew to a close.

チョウキ「クソッ! 何故勝てぬ・・・ッ!」

Chouki: "Dammit! Why couldn't I WIN....?!"

フミカド「私たちの勝ちだな」

Fumikado: "Looks like we won."

イヨザネ「勝っちゃいましたね」

Iyozane: "We wound up winning, huh?"

ツグミ 「まぁ3対1やからな」

Tsugumi: "It was 3 vs 1, but whatever."

フミカド「蝶鬼、この城を出ろ・・・
そして二度とここにくるな」

Fumikado: "Chouki, get out of this castle...
And never come back."

チョウキ「蜻蛉乃城に選ばれたわけでもない貴様ガ、
この玉座に座ることが許されると思うのカ!」

Chouki: "You weren't even chosen by the Dragonfly CasTLE,
and yet you think you'll be allowed to sit on this THRONE?!"

イヨザネ「おー、ついに文門さんが新皇になる日が来たのですかー」

Iyozane: "Oh, so today is the day Fumikado-san will finally become the New Emperor?"

フミカド「いや、今の私にその玉座に座る資格はない」

Fumikado: "No. I'm not qualified to sit on the throne at this time."

チョウキ「!?
どういうことダ」

Chouki: "!?
What do you meAN?"

イヨザネ「あれ? 新皇になること諦めちゃうんですか?」

Iyozane: "Huh? So you're gonna give up on trying to become the New Emperor?"

フミカド「そうじゃない 私が新皇に相応しい器になった時
蜻蛉乃城が私をまたここに導くから」

Fumikado: "That's not the case. The day I become a vessel suitable for the emperor,
the Dragonfly Castle will surely lead me here again."

ツグミ 「まぁたしかに今のフミさんが新皇になったらえらいこっちゃやな」

Tsugumi: "Well, 's true that Fumi-san becoming the emperor now would be a big problem, 'f you ask me."

イヨザネ「人の性格や能力って、そう簡単に変わるもんですかね~?」

Iyozane: "Can someone's character and ability really change that easily~?"

フミカド「・・・・・・・」

Fumikado: "......."

チョウキ「それでは私は・・・どうすればいいのダ」

Chouki: "So then, what... what am I supposed to DO?"

フミカド「さっき言っただろ この城から出て行け」

Fumikado: "Didn't I tell you? Get out of this castle."

チョウキ「城を失い・・・新皇でなくなった私はどうすればいイ?」

Chouki: "Now that I've lost the castle... now that I'm no longer the New Emperor, what should I DO?"

フミカド「また再び、新皇を目指せばいい 私と同じくな」

Fumikado: "Set your sights on becoming the Emperor again. Same as me."

チョウキ「・・・!」

Chouki: "...!"

フミカド「そうすれば、いずれまた私とぶつかることになるだろう」

Fumikado: "If you do that, I'm sure you'll clash with me again some day."

イヨザネ「今回は3人がかりでしたからね~
次は文門さん1人で戦ってもらいますからね」

Iyozane: "This time it was 3 vs 1, after all~.
The next time, you'll fight against Fumikado-san and no one else."

チョウキ「文門さ...」

Chouki: "Fumikado-sa...."

フミカド「さーて、それじゃあここから出るぞ」

Fumikado: "Well then, let's get out of here, guys."

イヨザネ「もう出ちゃうんですか?」

Iyozane: "We're leaving already?"

フミカド「まだ都の軍の連中がいるからな、それらも蹴散らさなくてはならん」

Fumikado: "We still have enemies in the Capital City, so we have to deal with them now too."

ツグミ 「なんや、まだ仕事残っとんのかい」

Tsugumi: "Aw, what? We still got work to do?"

フミカド「我々が参戦すれば、戦線を橋まで押し戻すことぐらいできるだろう」

Fumikado: "If we join in the battle, we'll be able to push the battlefield at least back to the bridge."

イヨザネ「じゃー、戦況が悪くなる前に、さっさと帰りましょうか~」

Iyozane: "Well, let's go back before this war gets any worse~."

フミカド「そうだ、蝶鬼」

Fumikado: "Oh, and Chouki?"

チョウキ「?」

Chouki: "?"

フミカド「次戦うときは、私を殺す気で来なければ勝てぬぞ」

Fumikado: "The next time we fight, you won't win unless you really do intend to kill me."

チョウキ「! ・・・・やはりバレていましたカ」

Chouki: "! ...So you did notiCE."

ツグミ 「? なんや、こいつ手加減してたんか?」

Tsugumi: "...? What, were they goin' easy on us or somethin'?"

イヨザネ「えぇー? 嘘でしょー?」

Iyozane: "Eeh? Seriously?"

フミカド「ま、私も次は本気を出すがな」

Fumikado: "Well, I'll be doing my best next time, too."

チョウキ「・・・・・・」

Chouki: "........"

―――同じ『平』の字を持つ二人...

---Two people, both bearing the name of "Taira"...

この二人にどのような因縁があるのか、詳しく知るのは当人達だけだが、

Only they themselves know just what had gone on between the two of them,

少なくともこれからもその因縁は続いていきそうだ。

but at the very least, it seems that relation between them will still continue in the future.

そして『蜻蛉乃城』・・・・そこに鎮座する空の玉座。

And the "Dragonfly Castle"... the empty throne enshrined within.

次にこの玉座に座ることになるのは誰なのか

Just who would be seated in that throne next?

今、それを予想できる者は少ないだろう・・・

At the moment, surely there are few who could predict that...

To be continued...?

To be continued...?

ROUTE:1 ALL CLEAR!!
<< おめでとう! 都にも行ってみたかな? >

ROUTE 1: ALL CLEAR!!
(Congratulations! Have you tried going to the Capital City yet?)