Evanescent Existence/Story/Tsubakura's Extra Scenario
Jump to navigation
Jump to search
Extra Stage
[
edit
]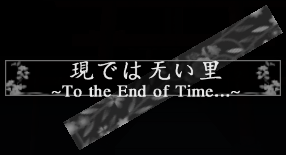 現では无い里 ~To the End of Time...~

The Land Outside Reality ~To the End of Time...~

勝者が敗者を従える...
普遍的なそれが、
ここでの法であり、
ここでの常である。

The loser must submit to the victor...
Here, this ubiquitous truth
is a basic principle
and eternal standard.

BGM: 古く噎せる記憶 〜 BEGAN

BGM: Old Stifled Memories ~ BEGAN

Clause ENTERS

Clause

先ほどはどうも・・・
『借り』は返させてもらう

I must thank you for your help earlier...
Allow me to pay off this "debt".

Tsubakura

お構いなく、病院に帰れ

Don't bother with that. Just go back to the hospital.

Clause

今度は少し『本気』を出させてもらうから、
死なないようにせいぜい努めてくれ

I shall get a little "serious" this time,
so do your very best not to perish!

Clause DEFEATED

Tsubakura

まったく、ちょっと随分出遅れたっぽいな

Geez, looks like I'm still late, even after I've hurried so much.

Tsubakura

少し調べてただけなのに、
皆さっさと行きやがって、薄情な奴らだ

Even though I was just looking into things a little, everyone went off without me.
How heartless of them.

Tsubakura

それになんだが偽者もいたし・・・
誰が得すんのかねぇ・・・

And there's also an imposter among them...
Just who would gain anything from that...?

Tsubakura

ま、いろんな疑問はそいつを懲らしめてから
ジックリ聞き出すとするか♪

Well, I'll have to punish them anyway,
so while I'm at it, I'll get them to talk, somehow. ♪

??? 

そこまでだっ!

You'll go no further!

Tsurubami Senri ENTERS

Tsubakura

噂をすれば影なんちゃら
・・・お前が偽者か?

Well, speak of the devil...
Are you the imposter?

??? 

そうだ、っと言ったらどうする?

How would you react if I said "yes, I am"?

Tsubakura

質問文に対して質問文で答えると
テスト0点なの知ってたか? マヌケ

Don't you know that you'll get a zero
if you answer a question with another question? Idiot.

??? 

ほー、外の世界の試験はシビアなんだな

My, tests in the outside world must be pretty severe.

Tsubakura

・・・ってことは、お前はこの世界の者なんだな?

...So, you mean you're from this world?

??? 

イェース、オッケー!

¡Exactamente![a]

Tsubakura

・・・とりあえず[b]何語でも構わないから答えろ、
『お前は何者だ?』

...Okay, I don't care what language you use, just answer this:
"Who are you?"

??? 

フーアーユー?

¿Quién eres tú?[a]

Tsubakura

0点

That just got you a big fat zero.

??? 

おや、厳しいな

Man, this really is severe.

Tsubakura

真面目に答える気がないって事は
良く分かった

Well, I at least learned that you have no intention of
answering seriously.

不可解な袴
闡裡 鶴喰

The Inexplicable Hakama
Tsurubami Senri

Tsurubami

俺はこの先にある『无現里』って国
に鎮座する『闡裡神社』に仕える者さ[c]

I live in the land of "Mugenri" just past here,
working for the "Senri Shrine".

Tsubakura

『夢幻』に『戦利』・・・?
随分とまぁ・・・アバンギャルドな名前だな

"Mugging" a "Sentry"...?[d]
What an avant-garde name.

Tsurubami

字が違うぞ

No, you've got it messed up.

Tsubakura

『無限』に『千里』とは・・・
そんなにデカイ神社があるとはな・・・

So it's "Mugging Senselessly"?[e]
Sounds like a pretty unpleasant place.

Tsurubami

真面目じゃないのはお互い様か

It seems that you have no intention of being serious either.

Tsubakura

そんなことより・・・

So anyway...

Tsurubami

質問してきたのはお前だろ

I mean, weren't you the one who came to me asking questions?

Tsubakura

そんなことより! [b]なんで俺を真似するんじゃい!?
なにか目的があってのことか?

So anyway! Why are you imitating me like this!?
Is there something you're trying to accomplish?

Tsurubami

目的もないのに真似なんかするものか?

Why would I imitate someone if I didn't have something to accomplish?

Tsubakura

・・・・・趣味とか

...I'unno, as a hobby?

Tsurubami

・・・・・

.....

Tsubakura

・・・・・

.....

Tsurubami

・・・それじゃあ1番を決めるかー、
決めたところで実は何にもないんだけどな

...Well looks like you made it here first.
But there isn't actually any prize for you, I'm afraid.

Tsubakura

まだ詳しいことを全然聞いてないんだが?

I still haven't asked you any of the important stuff though?

Tsurubami

俺を懲らしめてから聞くって言ってたろ?

You said you were going to punish me, didn't you?

Tsubakura

おやおや、聞こえてたか

Oh, you heard that?

Tsurubami

さっさと懲らしめてみせな

So, show me how you're going to punish me.

Tsubakura

ギャランティーは?

What'll I get in return again?

Tsurubami

ワンコイン

Tsubakura

たったの100円ぽっちかよ

Probably just a measly 100 yen.

Tsurubami

10円だ

It's 10 yen.

BGM: 永劫舞踏機関 〜 Shall_We_Dance!!

BGM: Eternal Dance Engine ~ Shall We Dance!!

Tsubakura

けち

How stingy.

Tsurubami Senri "DEFEATED"

Tsurubami

ありゃ〜、参ったなぁ〜負けちゃうとは、
見事に懲らしめられたってわけね

Oh my~, I give up~.
You did really well punishing me, I'm really glad!

Tsubakura

なんで本気を出さないんだか、面倒な奴

You didn't even fight with your true power? What a troublesome person.

Tsurubami

それってめんどうか?

Is that really what you would call troublesome?

Tsubakura

気分がね、メンタール[g]

It makes you seem pretty crazy.

Tsurubami

なるほど、それは悪いことをした・・・
・・・けどさ、俺が[b]本気出しちゃうとお前死ぬぜ?

I see, so going easy on you was bad...
...However, if I had used my true power, I would have killed you, you know?

Tsubakura

・・・っで、結局目的を教えてもらおうか、
俺達をこの世界につれてきた

...Anyways, why don't you finally tell me
why you called all of us into this world?

Tsurubami

うむ、まぁ答えは単純でな、
お前らにちょっと頼みがあるんだ

The answer is very simple.
It's because I have a task for you.

Tsubakura

あぁん?

Whaaa?

Tsurubami

まぁなんだ、俺が旅行中の間、
変わりに仕事をしてもらいたいんだ

Well, you see, I want you to do my job,
while I'm out on a trip.

Tsubakura

仕事って、なんの?

And what job is that?

Tsurubami

うちの神社の

I already told you, I work at the shrine.

Tsubakura

はぁ・・・神職さんになれと?

Ahh... So you're saying I gotta be a priest?

Tsurubami

そ、この先にある国を護る正義の神主様に!

Yes! The righteous priest who protects the land beyond here!

Tsubakura

・・・まぁ
そういう事に縁がないわけでもないがな・・・

...Well,
it's not like I don't have any connection to that kinda stuff, I guess...

Tsurubami

そうかい、やってくれるかい、
いやー、よかった、よかった

Is that so? You'll agree to do it?
Wow, I'm so glad!

Tsubakura

強引に話を進めるな

Don't force the conversation along on your own.

Tsurubami

まぁ詳しい話は、乱入者を歓迎した後でな

I'll tell you more about it, after I welcome the intruder.

Tsubakura

乱入者?

Intruder?

Tsurubami

アレって、お前の知り合いだろ?
空飛ぶ天然記念物

They're an acquaintance of yours, aren't they?
The flying natural wonder?

Tsubakura

あ〜、アレか
来てたんだな、やっぱり

Oh~, them.
I guess I knew they would be here sooner or later.

Tsurubami

連続で手加減するってのも、
結構疲れるんだよなぁ・・・

It's quite tiring,
having to hold myself back in one fight after another like this...

Tsubakura

あいつには手加減しないほうが
良いと思うぞ?

I think it'd be better not to hold back in their case,
you know?

Tsurubami

あら、そう?

Oh, you think so?

Tsubakura

まぁ俺はそこいらの物陰でニヤニヤしながら
高みの見物と洒落込むか

Well I'll just hide over there, smirking while I watch.
Treat myself to the spectacle.

Tsurubami

・・・お前ら、仲間じゃないのか?

...Aren't you two friends?

Tsubakura

ノーコメント

Sin comentarios.[h]
↑ 1.0 1.1 1.2

Tsurubami is speaking English in the original text of these areas, meaning "Yes, that's right!" (actually "Yes, okay!"), "Who are you?" and "One coin." respectively. The English translation is in Spanish.

↑ Mugenri (

无現里

) and Senri (

闡裡

) originally had furigana next to them to indicate the pronunciation, but were removed in v1.10a since their pronunciations are now obvious.
↑ Original pun: mugen (

夢幻

, fantasy) and senri (

戦利

, war spoils).
↑ Original pun: mugen (

無限

, infinite) and senri (

千里

, thousand miles), with Tsubakura questioning if there could even be a shrine that big.
↑ Likely a reference to a quote by Flandre Scarlet from Embodiment of Scarlet Devil.
↑ Wordplay on mendou (

面倒

, troublesome) and mentāru (

メンタール

, mentality).
↑

Same as Tsurubami speaking English. The original English is "No comment."