Adagumo no Saragimaru
From Len'en Wiki
Adagumo no Saragimaru (徒雲 蛇穴丸) is Adagumo no Yaorochi's younger sibling and a youkai born from Yamata no Orochi's eye. Straightforward and diligent, they secretly look after their elder sibling. They are the Extra stage boss of Earthen Miraculous Sword, as well as a playable character in Reactivate Majestical Imperial.
General Information
[
edit
]
Personality
[
edit
]
Saragimaru has a straightforward diligent personality, and because of it, they're often manipulated by those around them, such as Kuroji. For this reason, they often fail at whatever they are doing, but they particularly excel at instantaneous speed and concentration power. As pointed out by Shion, they have a self-sacrificing personality, fitting for a subordinate. In comparison to Yaorochi, Saragimaru has the fewest number of tails for an orochi, and it's a clear sign of Saragimaru's power.
They are devoted to serving their older sibling Yaorochi. Saragimaru loves them very much because they're their only living relative, but due to Tasouken's curse (to sever relationships), Yaorochi doesn't care about them. Saragimaru even threatens to kill the heroes in Earthen Miraculous Sword for stopping the ritual that'd restore the Tasouken and thus interfering with Yaorochi's happiness.
Perhaps due to being isolated for so long, Saragimaru is a loner by nature and chooses not to socialize with humans or youkai. When they do associate with someone, they act rather awkwardly. Like their sibling, they look down on humans. Nevertheless, to those whom they're acquainted with, Saragimaru speaks bluntly and has a snarky personality. They're presented as the most no-nonsense character out of all the Len'en Project, and having lived for over centuries, they don't mince words when noting they have to deal with the equivalent of kids from their perspective.
Abilities
[
edit
]
Manipulate cloudy weather
Saragimaru is able to control clouds and create cloudy weather. In the Extra Stage of Earthen Miraculous Sword, they create clouds around Mugenri in order to lure the heroes into a deadly trap, though their plan is eventually foiled.
Backstory
[
edit
]
The leader of a powerful clan (implied to be Yamata no Orochi) was betrayed and killed by other enemy clans and his body was dispersed in several fragments. Saragimaru was born from his eye, and because of it, they're very knowledgeable. Yaorochi and their seven siblings decided to get revenge on Orochi's murderers, but most of them died before achieving their goal. Yaorochi was very cold and distant to their younger siblings and for some reason they never got along particularly well with the youngest, Saragimaru. It eventually escalated to violence which culminated with Yaorochi cutting Saragimaru down. Given the nature of the Tasouken, their bond shattered and they distanced. Shortly, Yaorochi abandoned them in order to look for the sword. They searched for it for several years and was very disappointed when they found it all rusted.
Saragimaru, who had silently looked after Yaorochi all those years, requested Sukune Katano to make a clay sword for Yaorochi, but afraid of their sibling's rejection, they never went to pick it.
Background Information
[
edit
]
Their character might be a homage to Youmu Konpaku

. Both are young and inexperienced, with a straightforward and diligent personality. They're also often mistreated by others and use dual wielding weapons. Additionally, they also have an eccentric master whom they have trouble understanding.
Their full name is Adagumo no Saragimaru (徒雲 蛇穴丸). Their given name Saragimaru (蛇穴丸) is spelled with the kanji for "snake", "hole", and "circle". The maru (circle) suffix was historically added to names of swords and sailing ships. Yabusame Houlen can't remember this and calls them "Salami" (サラミ, sarami). Their surname, Adagumo (徒雲), means "vanishing cloud". It refers to the concept of ephemerality, giving the impression of a cloud that disappears as soon as you reach out to touch it. The hiragana character no (の) used here indicates a "belonging", thus the English equivalent of their name would be "Saragimaru of the Adagumo". In ancient Japan times, it was common for aristocrats with a clan's name to have no between their clan's name and first name.
Saragimaru has red eyes and short green hair tied in a short side ponytail. They dress in black and green clothing with a green capelet. As an orochi, they have one tail.
Saragimaru's Appearances
[
edit
]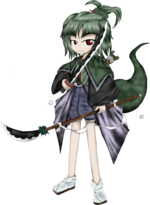 Earthen Miraculous Sword
It's revealed that they soon regretted requesting the Tasouken, as they knew it was dangerous for it to be restored. However the essence of the Tasouken was too strong for the clay vessel and during Adagumo no Yaorochi's fight against the three heroes, it attacked them on its own, only to be defeated. After Yaorochi is defeated, the clouds dissipate.
However, a few days later, the cloudy weather returns. Drunkenly, the heroes go to investigate and they found that this time the culprit is Yaorochi's younger sibling, Saragimaru. They wanted revenge for the sabotaging of the Tasouken's ritual and thus ruining of Yaorochi's happiness, so they lured the heroes into a trap to murder them. They are defeated and the heroes attempt to befriend them by inviting Saragimaru to their sake party.
Reactivate Majestical Imperial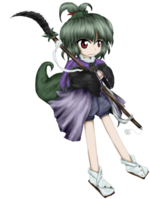 Saragimaru is once again stalking Yaorochi at the Senri Shrine. Kuroji catches them in the act and blackmails them into cooperation. The orochi agrees, and they begrudgingly form an alliance. Also, Saragimaru decided that they won't tell Yaorochi of their parentage, preferring to protect them from the shadows.
On the way, the group keeps bumping into weird youkai, while Kuroji attacking them in order to steal their valuable things, much to Saragimaru's displeasure. After dealing with the person who the signboard was directed to, Fujiwara no Iyozane, they reveal that they're working to resurrect someone important and will receive something valuable from it. Kuroji believes it's money, only to attack them in frustration when Iyozane reveals they're penniless and they'll actually gain a position as a chief advisor. On the Frost Cavern, they bump into Yabusame and Tsubakura, who are curious about their partnership. Kuroji wants to prove once again that they're stronger than Tsubakura and settles on a fight. Angry at the person who wrote the signboard for making them waste their time, Kuroji goes with the orochi to ruin said ritual. They find Taira no Fumikado, who was trying to collect spirits for their resurrection ceremony, since they want to resucitate the vengeful spirit Taira no Masakado and store him in their homunculus body. After defeating them, they find out that all the spirits are attracted to a certain location. Finally, they end up in the Withered Grove, where they find the chimera soul Shion, who is the avatar of the soul-eater flower Harujion and was absorbing spirits, causing a long winter. Saragimaru senses that Shion's spirit is composed of evil spirits and is unsure about fighting someone so dangerous, but obeys Kuroji when the latter decides to steal and sell the flower. Shion fights them in order to protect the Harujion.
In the end, Kuroji and Saragimaru arrive at the Senri Shrine, bringing Shion with them. Shion indicated that they were attracted by the essence of the shrine. Kuroji wants to sell the remaining spirits to collect money while Saragimaru is worried about the amoral things Kuroji does to get profit and decides to keep an eye on them.
It's revealed that the spirits came to Mugenri because of a hole in the Mugenri Barrier that separates the land from the Outside World. The hole was caused by Lumen, during the Clouds Incident and Tenkai Zuifeng was tasked to repair the hole, but is taking too long. Saragimaru is revealed to know Tenkai, but being hostile to most humans, they're not on good terms with them. On the way back home, they are ambushed by Sese Kitsugai, a youkai they had defeated at the beginning of the story. Sese absorbs the spirits the heroes had been recollecting, much to Kuroji's chagrin, who wanted to sell them. After Sese is defeated, the spirits leave Sese's body and Kuroji orders Saragimaru to retrieve them.
Brilliant Pagoda or Haze Castle
Apparently now Saragimaru works for the Shitodo household as a servant and lives with them. Worried that Yaorochi is receiving constant invitations from both sides of the war to be their ally, Saragimaru escapes from the Shitodo house to protect Yaorochi from the shadows as usual.
Relationships
[
edit
]
Adagumo no Yaorochi
Saragimaru is devoted to serve and protect their eldest sibling Adagumo no Yaorochi. In the past, they had a fickle relationship and they distanced when Yaorochi slashed them. They love and respects their older sibling very much (calling them "Yaorochi-sama") and wishes to be close with them, but Yaorochi doesn't notice or care about them anymore, too obsessed with the Tasouken to notice them. In order to make them happy and to stop Yaorochi's confinement from the world, Saragimaru requested Sukune Katano to make a clay sword that resembled the Tasouken, despite knowing it was dangerous.
Even if they're aware that Yaorochi cares very little about other people, much less them, Saragimaru doesn't mind and they're happy as long as they can continue passively protecting their older sibling.
Kuroji Shitodo
Since Reactivate Majestical Imperial, Saragimaru works as Kuroji's unwilling servant, something the orochi is not happy about. Saragimaru considers Kuroji a contradictory and vicious scoundrel who gets away with everything. Kuroji doesn't mind to such things, but when angered enough, they will not hesitate to remind Saragimaru of their blackmail. Kuroji likes Saragimaru because of their strength and straightforward down-to-earth personality. However, Kuroji is willing to blackmail the orochi into cooperation or sell their identity.
The two are generally on "friendly" terms, and it's suggested that Kuroji cares about them in their own way, such as consoling them when the orochi is feeling cold or helping them to hide from Yaorochi. Also, Kuroji has stated many times that Saragimaru reminds them of Aoji.
Aoji and Hooaka Shitodo
Since Saragimaru became Kuroji's unwilling servant, they live at the Shitodo's house. Hooaka does not have respect for Saragimaru and treats them like a slave, while Aoji is terrified of them. Saragimaru dislikes them because they're humans and related to Kuroji.
Tenkai Zuifeng
It is known the Saragimaru and Tenkai knew each other before the events of Reactivate Majestical Imperial. They seem to be know each other and Tenkai knew of Saragimaru's plans to restore the Tasouken. However, Saragimaru despises humans and Tenkai is no exception to them.
Spell Cards
[
edit
]
  Spell Cards
Name
Translated
Comments
Games
Stage
Total: 15
雨雪「奇し雲」
Rain and Snow "Mysterious Cloud"
EMS
St. Ex
受難「ギャザリングクラウド」
Suffering "Gathering Cloud"[a]
EMS
St. Ex
去思「鋒に残る面影」
Fleeting Thought "Traces Left on the Edge of a Sword"
EMS
St. Ex
虚栄「雲に架ける梯---【ヒト】」
Vanity "Ladder Built Between Clouds---[Human]"
EMS
BPoHC
St. Ex
St 4: E/N
神器「天を映す鏡」
Regalia "Heaven-Reflecting Mirror"[b]
EMS
BPoHC
St. Ex
St 4: E/N
神器「魂を司る勾玉」
Sacred Treasure "The Magatama that Controls Spirits"[c]
EMS
St. Ex
神器「縁すら絶てぬ劔」
Sacred Treasure "The Sword that Doesn't Sever Relations"[d]
EMS
St. Ex
天孫「雲に架ける梯---【霓】」
Divine Grandson "Ladder Built Between Clouds---[Rainbow]"[e][f]
EMS
RMI
BPoHC
St. Ex
St. 4: H/U
St 4: H/U
輪廻「樋速日神の瞳」
Transmigration "Hihayahi Eye"[g][h]
Bomb (RMI)
EMS
RMI
BPoHC
St. Ex
St 4: H/U / Use
St 4: H/U
「決して消えることなき徒雲」
"The Never-Disappearing Vanishing Cloud"[i]
EMS
BPoHC
St. Ex
St. 4 E/N/H/U
「雲に架ける梯 --- 【偽】」
"Ladder Built Between Clouds---[Fake]"
Flash bomb
RMI
Use
儀式「雲に架ける梯---【残光】」
Ritual "Ladder Built Between Clouds---[Afterglow]"[j]
RMI
St. 4: E/N
閃光「ジャノメの点」
Flashing Light "Janome Point"[k]
RMI
St. 4: E/N
逆刃「逆燕返し」
Inverse Blade "Inverted Turning Swallow Cut"[l]
Co-owner with Kuroji
RMI
St. 4: E/N
反斬「鵐の爪」
Reverse Slash "Bunting's Claws"[m]
Co-owner with Kuroji
RMI
St. 4: H/U
「天を照らす瞳」
"Heaven-Illuminating Eyes"
BPoHC
St. 4: H/U
「神の血から産まれし蛇」
"Snake Born From the Blood of a God"
BPoHC
St. 4: E/N
Additional Information
[
edit
]
Saragimaru's musical theme, "Mono Eye ~ Ironic FATE", may also read as "Mono Ai". According to JynX, it could refer to their "single eye", or maybe it's more like their one-sided love towards Adagumo no Yaorochi.
They seem to have low stamina, getting tired for the smallest things during Reactivate Majestical Imperial.
According to Jynx, Saragimaru is the most mature and the only one with common sense in Mugenri.
Yaorochi's and Saragimaru's color schemes are inverted since Reactivate Majestical Imperial.
Official Profiles
[
edit
]
〇EX面ボス  最後の瞳
徒雲 蛇穴丸(あだぐものさらぎまる)
Adagumo no Saragimaru

種族:大蛇
能力:曇天を操れる的な能力

八尾呂智とともに産まれた妖怪の一人。

八尾呂智には七人の家族がいた。
八尾呂智が『腕』が化けたものに対し、
蛇穴丸は『目』が化けた妖怪であった。
蛇穴丸の他にいた家族は、長い年月が過ぎ去っていく中、
歴史に呑み込まれて今では生き残ったのは
八尾呂智と蛇穴丸だけとなった。

棟梁である八尾呂智は自らに血のつながる家族が居ることは知らない。
・・・っというより、剣のみにしか興味が無い八尾呂智の眼には、
他の同士達の存在は映っていなかった。

志半ばで倒れていく同士の中には、
手を翻したために八尾呂智に斬られた者もいた。
同じ思いの元で産まれてきた家族なのだが、
『翻雲覆雨』という言葉の通り、
手を覆せば雲が雨となったわけだ、紅色の雨に・・・・
蛇穴丸は苦い記憶と共にそれを学んだ。

やがて生き残りは八尾呂智と蛇穴丸だけとなってしまったが。
お互いしか存在しない中、八尾呂智の眼には剣しか映っておらず、
蛇穴丸を映す瞳はもういなかった。

そんな中で八尾呂智の"入水"を目撃した蛇穴丸は、その後一人になり、
生きがいも失った。
表情を失った姿で八尾呂智が沈む水面をずっと眺め続ける日々が続き、
あっという間に数年間が過ぎた。

八尾呂智が水面から姿を現した光景は、
後に蛇穴丸が『奇跡』という単語を耳にするたびに
思い出すこととなる程に衝撃的であった。

しかし八尾呂智が片腕に持っている"あの剣"を見ると、
喜んでばかりでもなかった。
さらに、その剣の存在以上に。
八尾呂智の"目"が蛇穴丸の喜悦の色を失わせた。

どこぞの神話の世界に、見つめた相手を石にしてしまう
ヘビの化け物がいるそうだが、
今思い返してみると、八尾呂智の瞳はまさにそれそのものだったと、
蛇穴丸は後に思い返した。
八尾呂智の持つその剣は錆びれ果てていて、
その眼にはまるで生気が無かった。
そんな虚ろな目をしたまま、まるで亡霊のように住処に帰っていった。

だがその数日後、
蛇穴丸は清々しい顔をしながら歩いている八尾呂智の姿を見つけて、
ようやく剣の呪縛から解き放たれたのだと安心した。

しかしその後、八尾呂智の姿を見つけることは叶わず、雲が消えるかの様に
目の前から消え去っていってしまった。
結局、蛇穴丸は最後まで自分が家族だと明かすことは出来なかった。


そして、記憶の空白となる永い時が過ぎる。


蛇穴丸もまた、のんびりと...閑雲野鶴に過ごしていた。
変化の無い日々を、変化の無い生活をしながら見送っていった。
あの方は今頃何をしているだろうか・・・
今でもそんなことを思いながら、時間だけが目の前を通り過ぎて行く。

だがそんな時、无現里にて八尾呂智が散歩をしているところを
偶然発見してしまった。
数世紀ぶりに見るその姿は記憶の通り、美麗かつ凛としており、
何も変わっていなかった。

・・・のように見えるが、
蛇穴丸はハッキリと八尾呂智の心の孔を見据えていた。


やはりあの剣か・・・・

当人以上にその孔の正体を知る蛇穴丸は、
苦虫をじっくり咀嚼するかのような気分だった。
だが、どんなことがあっても、あの剣の力を解放してはならない。

八尾呂智を正気に戻す事、剣の力を封じ込める事、
この矛盾を整合させる為には・・・
蛇穴丸は一つの企てを胸に、とある筋から知った土器職人に
一つの依頼をした。

しかし、蛇穴丸にはそれをする勇気がなかった。
あの剣と、それによって大切な人を失うかもしれないことが唯々怖かった。
だが八尾呂智が我を取り戻すにはあの剣が必要だ。
そんな気持ちが入り組んでか、いつまで経っても
依頼した剣を取りに行けなかった。

そうこうしているうちに、八尾呂智とその依頼品は出会ってしまった。
奇縁・・・ではあるが、必然だったのかもしれない。
強く求めるものを得ることが出来るだけの力を、
八尾呂智は持っているのだから。


やがて剣は偽りの復活を果たした、
そうなることは蛇穴丸は前もって分かっていた。
そしてそれが正常に機能しないことも分かっていた。
剣の器の内側に記してある術式が力を抑えてるのだ。
...しかし、本当に上手くいくとは、正直思っていなかった・・・
あの剣の力はこの程度のものだっただろうか?


儀式場にて、蛇穴丸が作り出した太陽光の光線に照らされる八尾呂智の姿。
それは眩しいくらいに輝いて・・・いや、煌いており、
正に竜の雲を得る如し姿であった。
その冠絶たる光景を目に焼き付けながら、蛇穴丸は悟った。

たぶん、自分が家族であることを明かす事は未来永劫無いだろう。
これからもあの方を見守り続けさえすれば、それでいい。


剣の呪われた運命と、その本当の使い方を知る蛇穴丸の瞳には、
八尾呂智の姿しか映っていなかった。

〇Extra Boss — Final Eye
Adagumo no Saragimaru

Species: Orochi
Ability: Manipulating cloudy weather-like ability

They're a youkai who was born together with Yaorochi.

Yaorochi had a family of seven siblings.
In the same way that Yaorochi was born from Orochi's "arm",
Saragimaru was born from his "eye".
During the course of many long months and years, Saragimaru's other siblings,
were swallowed up by history, and now the only surviving members,
are Yaorochi and Saragimaru.

Although they were something of the head of the family, Yaorochi wasn't aware of their siblings' existence.
Or rather, to Yaorochi, who was interested in nothing but the sword,
the existence of any of their allies didn't make any difference.

Among their allies that were defeated before they achieved their goal,
there was one who was pointlessly cut down by Yaorochi.
They were part of the same family and born of the same feelings,
but they had a very fickle relationship with Yaorochi,
and not only did their relationship turn sour, but the event escalated to violence.
Saragimaru learned a harsh lesson along with their bitter memories.

Eventually all the siblings except for Yaorochi and Saragimaru died.
Despite having no one left but each other, Yaorochi still only cared about the sword.
They did not yet have the eyes to see Saragimaru.

Saragimaru, who had witnessed Yaorochi "drown" themself in search for the sword,
was from then on alone, and lost their will to live.
Their days of vacantly gazing at the surface of the water where Yaorochi drowned went on and on,
and in the blink of an eye several years had passed.

At the sight of Yaorochi's form appearing above the water,
Saragimaru was so amazed that from then on,
they were reminded of it whenever they heard the word "miracle".

However, looking at "that sword" that Yaorochi was holding in their arm,
Saragimaru could tell that it wasn't quite a joyous return.
Even more than the state of the sword,
Yaorochi's "eyes" were what deadened the color of Saragimaru's joy.

In the world of a certain culture's myths,
there is a snake monster that turns you into stone when it gazes at you.
When they thought back on it,
Saragimaru thought that their sibling's eyes were exactly like that.
The sword Yaorochi was carrying was covered in rust,
and to that extent it had lost it's vitality.
It seemed to Saragimaru that Yaorochi, with their empty eyes, must have returned from a visit to hell.

But several days later,
Saragimaru happened upon the figure of Yaorochi walking along calmly and happily.
Saragimaru was relieved to see that Yaorochi had been released from the sword's curse.

One day, though, Yaorochi disappeared before Saragimaru's eyes, just like a vanishing cloud.
And although Saragimaru searched for them, they couldn't find them.
In the end, Saragimaru was never able to reveal to them that they were family.


And then passed an unbelievably long time that became a white space in Saragimaru's memory.


Saragimaru once again passed their days away idly, free from worldly cares.
They saw off every unchanging day as it passed, as they continued to live their unchanging lifestyle.
"I wonder what they're doing now..."
As they continued to think that even after so long, time alone continued to pass in front of their eyes.

But one day, by total chance they happened to discover,
Yaorochi walking through Mugenri.
Seeing their figure again after so many centuries, Saragimaru saw that they were still just as beautiful and intense as before.
Absolutely nothing had changed.

...or so it seemed, but,
looking closer, Saragimaru could clearly see that Yaorochi had a void in their heart.


"Of course it must be that sword..."

Saragimaru, who was aware of the true form of that void even more than Yaorochi,
was in such an awful mood that they felt like they had to puke.

However, no matter what happens, that sword's power must not be released.

Yaorochi's return to their true nature, and the sword's power being sealed away,
in order to correct this inconsistency...
Saragimaru had just one plan.
They made a request to a clay-work artisan they had heard about from a certain source.

However, Saragimaru didn't have the courage to go through with it.
They were terribly scared of Yaorochi's obsession with the sword, and the possibility of losing the one person important to them.
Yet, that sword was necessary to bring back Yaorochi's real self.
Saragimaru's feelings had become complicated,
and they never went to pick up the sword they had requested.

Meanwhile, Yaorochi happened to come across the sword on their own.
It was a coincidence... or rather, perhaps it was inevitable.
It was because Yaorochi,
has the ability to find what they strongly wish for.


Before long the sword completed it's fake revival,
just as Saragimaru knew would happen.
And thus Saragimaru understood why it wasn't performing it's regular function as well.
The magical inscription written inside the sword's vessel was holding it back.
...They really didn't think it would work out, but...
Was that sword from back then really this powerful?

Yaorochi was there at the location of the ritual, bathed in the sunlight that Saragimaru had produced.
They were glittering... no, shining radiantly,
they were basking gloriously in the light.
While the sight of it was burned into their eyes, Saragimaru came to understand something.

Yaorochi would probably never realize that they're siblings.
Nevertheless, Saragimaru knew that they could be happy so long as they could just continue protecting Yaorochi.


The cursed fate of the sword, and Saragimaru, who knew the real way to use it.
Nothing but the figure of Yaorochi reflected in Saragimaru's eyes.
  種族:大蛇


  能力:曇天を操れる的な能力



  八尾呂智と共に産まれた妖怪の一人。
  八尾呂智を影から見守っており、
  互いに血が繋がっていることすら明かしていない。
  けど当人はそれで満足しているようで、
  今日も健気に草むらから八尾呂智を覗いている。
  なんか危ない。



  ナベでは親子鍋がスキ。

Species: Orochi


Ability: Manipulating cloudy weather-like ability

They are a Youkai that has been born alongside Yaorochi.
They keep watching them over the shadows, even without their knowing for certain if they are connected by blood.
However they seem to be satisfied with that. Today they keep observing Yaorochi from a clump of brushes. This is kinda dangerous.

As for nabe, they like Oyako Nabe
最後の瞳


徒雲 蛇穴丸
Adagumo no Saragimaru

◯種族
大蛇
◯能力
曇天を操れる
    的な能力

八尾呂智とともに産まれた妖怪の一人。

鵐ファミリーのクロい奴に弱みを握られ、
奴隷まがいに働かされていたが、
ついには逃げ出し、
現在は身を隠しながら八尾呂智を見守っている。

現在の戦乱については全く興味はないが、
八尾呂智の身に振るかかる火の粉は払うつもりでいる。

Final Eye


Adagumo no Saragimaru


◯Species:
Orochi
◯Abilities:
Manipulating cloudy weather-like ability
Official Sources
[
edit
]