Evanescent Existence/Story/Yabusame's Good Ending
Jump to navigation
Jump to search
SPOILER WARNING
The following material is hidden away from normal view to prevent spoilers.
It contains ending dialogue and thus hidden away so that it meets the requirements provided by JynX.
Please read at your own risk!
I understand and I wish to continue
You've committed a big mistake, yo.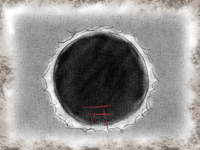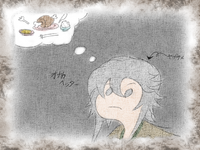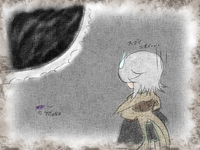 影を放つ太陽の傍らで、真珠色の髪にその影を浴びせながら
鳳聯藪雨は訝しげな表情で友人の事について思いを致していた。

While a shadow from the sun was cast on their pearl-grey hair,
Yabusame Houlen, with a doubtful expression, had just finished a thought about their friend.

ヤブサメ 「うーん、いつもの事だけどコレってまたヤッカイゴトなのかな〜?
玄鳥はどこにいるんだろう? まさか居ないのかな?」

Yabusame "Hrmm. It's not like it would be anything new, but is there, like, some serious trouble going on...?
I wonder where Tsubakura is? Are they even here?"

そういいながら、藪雨の視線は黒い太陽の方へ移った。

While saying that, Yabusame's gaze shifted towards the black sun.

本来のものと違い、直視することで目を傷めることは無いが、光とは逆のものを
発するそれは、まるで周りの景色を全て呑み込んでしまうのではないか

Unlike the real sun, looking straight at it didn't hurt one's eyes. But as it released something
the opposite of light, it seemed almost as if it was sucking in the scenery around it.

・・・という錯覚を見る者に与える。
実際にそれは光を取り込んでいるのかもしれないが・・・

...Or such is the illusion it conveyed.
In truth it might have even been sucking in light...

ヤブサメ 「・・・・結局、あそこに行くしかないのかー、ヤダなー」

Yabusame "....In the end, I guess I've got no choice but to go in there. This sucks."

藪雨はいつものように素直に直感に従い、
黒くて小さな恒星へ向かうことにしたらしい。

Yabusame followed their instincts like always,
and headed towards the small, black star.

少なくとも藪雨の頭脳では、それ以外の選択肢が思い浮かばなかったようだ。

At the very least, it seemed that they couldn't think of any other options in their head.

To be continued ---- EXTRA_STAGE...

To be continued in the Extra Stage...

ROUTE1 ALL CLEAR!!
            やったね! けど終わりじゃないよ?

ROUTE1 ALL CLEAR!!
            You did it! But you know it's not over yet, right?