User:Tony64
Jump to navigation
Jump to search
トーニ六十四


Tony64
Born
21 November 1994
Location
UK
Gender
Male
Occupation
Student
Favourite
character
Tsurubami Senri
Hi, Tony64 here, a Steward of the Len'en Wiki. Years ago, I helped with building this wiki up and now I'm one of the two Stewards keeping this place running. I try my best to contribute whenever I can!
Teh Stuff About Me
Ok where do I start... I used to be a Touhou fan, but not these days. Thinking back when turning to Len'en, it was Tsurubami who got my attention the most. Tsurubami's theme is really what got me hooked.
I respect Len'en now for going its own path in the series. I like how it slowly unfolds into something unique with how Book of the Cafe is going along.
In case you want to know how my Japanese skills are... They are rubbish lol. I know an extremely small amount of Japanese. I've memorised most of the hiragana/katakana, know a dozen words or so, a few kanji, and that's about it. So don't expect a whole lot from me in that regard. One of my favourite Japanese words happens to be oi (おい), because it coincidentally has the same meaning as British English oi. Yep.
Len'en isn't the only thing I like. Nintendo in general is great. There's a lot of things in life that I like, though I'm not gonna cover all that here... There'd be too much uninteresting stuff to talk about!! Association football, for example. Yeah...
Teh Contacts
If there is anything you want to ask me (even though I might be busy), don't hesitate and speak away, and I'll try to respond. You can find me on Discord that is posted on the main page, or send me an e-mail to "tonytsuru64@gmail.com" as I try to check my e-mails. You will not find me on places such as Facebook or Twitter and the like due to both finding it hard to fit in those places and that I find them uninteresting, so if you want contact from me outside the wiki, your best option would be either by e-mail or discord. Sorry for any inconveniences!!!!!
Teh Characters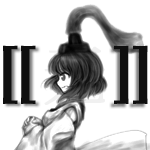 As you probably already know, my favourite Len'en character is Tsurubami Senri, even amongst the Touhou cast. It's mainly what introduced me to Len'en. Hence, this is why she is on the wiki's logo, although I also choose her because I see her as what makes up Len'en as a whole. And she fits very nicely with the monochrome theme, of course. (When I choose Tsurubami for something, I make sure there's valid reasons other than "muh favourite", I promise!!) I also have a likeness to Suzumi Kuzu because she's mysterious, or Clause because she's very literate, or even Yabusame Houlen for the lulz. But really, I like all of them.
From my perspective, I headcanon the majority of the cast female and some being male, those being Hibaru, Kurohebi and Lumen. Clause? No idea. I base this speculation on the appearance of the characters and (sometimes) how they speak (e.g. Hamee sounds very feminine), so you may see me refer to the characters with specific pronouns elsewhere. Gender speculation or the lack of gender isn't the reason why I like Len'en characters.
I had a go with the Len'en sorter, and I got this:
Tsurubami Senri
Clause
Tenkai Zuifeng
Suzumi Kuzu
Xeno a
Haiji Senri
Yabusame Houren
Tsubakura Enraku
Jinbei
Ooama no Ake no Mitori
Shion
Adagumo no Saragimaru
Adagumo no Yaorochi
Taira no Fumikado
Yago Ametsukana
Taira no Chouki
Tasouken
Fujiwara no Shirogane no Sanra
Kuroji Shitodo
Kuroheibi
Hibaru Kokutenshi
Fujiwara no Iyozane
Lumen Celeritas
Sukune Katano
Sese Kitsugai
Jun Amanomiya
Kunimitsu Ooya
Mitsumo
Souko Shirami
Tsugumi Umatachi
Garaiya Ogata
Aoji Shitodo
Terumi
Kujiru Kesa
Para
Shou Amanomori
Hooaka Shitodo
Kaoru Kashiwagi
Kaisen Azuma
Medias Moritake
Teh tl;dr version of my user page
Hi, I'm Tony64 and I like Len'en, nice to meet ya. I've got nothing to say but useless information! You're wasting your time reading this page! Please leave and never think too deeply about my user page!!!
Sup-pages